We Accept Payments - Cosigner Not Required!
Call 1-612-326-3300 Today!
* We are a debt relief agency. We help people file for bankruptcy relief under the Bankruptcy Code.
Civil Litigation, Civil Lawsuits,
and Trial Lawyers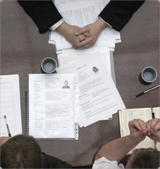 Many of us at one time or another may find themselves in a legal dispute with another individual, company, or organization resulting in some form of civil litigation. Oftentimes these disputes are minor and can be reconciled without any form of civil litigation, civil lawsuit, or the need for a trial lawyer. Depending on your particular situation and your needs you may even be able to come to an suitable agreement before anyone even files a civil lawsuit or enlists the help of a trial lawyer.
Civil Lawsuits and Civil Litigation
Unfortunately there are times when only a legal decision derived from a civil lawsuit will solve matters. Unlike a criminal case, civil litigation involves a dispute often in the form of a civil lawsuit stemming from such matters as personal injury cases, breach of contract, landlord and tenant disputes, malpractice, or even sexual or racial discrimination. When a civil lawsuit is your only recourse in the pursuit justice Affordable Resource Services can be your greatest ally for success.
Find an Affordable Trial Lawyer

When it comes to civil litigation many are unaware of what steps to take in order to get justice or defend oneself against unfounded complaints. In this situation an experienced trial lawyer is an invaluable resource. Affordable Resource Services is here to help you by providing access to an affordable trial lawyer who can represent you in trials, hearings, arbitration, and mediation if needed.
Court Appearance and Settlements
Affordable Resource Services and your provider attorney can help you in each stage of civil litigation, from filing a complaint or a response, to an actual court appearance. Many times a lawyer can assist you in negotiating a settlement with the other party before the case comes to court. If an agreeable settlement is impossible than you'll be glad to have a well trained attorney at your side to manage court proceedings and make sure the complex rules of civil procedure are followed.
---
Notice: Affordable Resource Services staff cannot provide legal advice. No information on this site should be used or interpreted as legal advice. Legal counsel is provided by law plan attorneys or resource organization attorneys as assigned.